Being in nature has always been promoted to benefit our health, and a study has scientifically proved this to be true.  The study, run by the charity The Wildlife Trusts, had participants do daily activities in nature that were fun and simple for 30 days.
"30 Days Wild" attracted over 18,500 people and encouraged them to engage with nature every day for a month. The study originated from a need to increase people's interaction with nature, with a focus on bettering human wellbeing and conserving nature. For this to happen, the study had to be on a large scale, since normalising engagement with nature was a main concern.
Participants were given tasks like planting flowers for the preservation of honeybees, feeding birds, and going for nature walks. Those involved in the study found themselves feeling happier and healthier after the month's participation. They had more energy, less stress and were able to maintain focus far more easily at work, as their sleep also improved. With this stronger connection to nature, participants consequently gained an increased pro-nature stance, as they directly felt the benefits of being in nature and felt more inclined to protect it.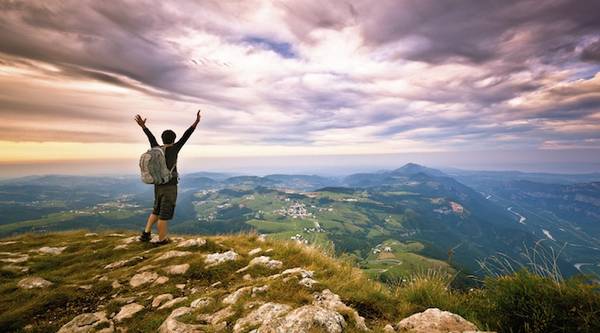 Speaking to the BBC, campaigns manager Lucy McRobert said, "Intuitively we knew that nature was good for us as humans, but the results were beyond brilliant."
The effects were shown to help children with self-esteem and creativity, as they felt encouraged to take more risks. Additionally, those suffering from mental health or even physical illnesses were able to control their symptoms.
"Nature isn't a miracle cure for diseases," continues McRobert. "But by interacting with it, spending time in it, experiencing it and appreciating it, we can reap the benefits of feeling happier and healthier as a result."
Even after the study had ended, the participants reported that they continued to interact daily with nature. This is brilliant news, but it is baby steps in the whole environmental scheme of things. It is crucial that engagement with nature is normalised within a social context to conserve nature as well as to continue to better human health.
You do not have to be stuck in the middle of nowhere or smack bang in the countryside to constitute as being in nature. Planting flowers in hanging baskets and maintaining the upkeep of city parks are just as important as running through fields and forests. Bristol, for example, has a project called Incredible Edible Bristol that encourages people to grow food all over the city, be it in your back garden or a public patch of grass. This food is free for the taking (within reason, of course), helping the homeless and not-so-affluent Bristolians eat well. Another aim of the project is to keep the city as green as possible and they even offer free walking tours of the food trails.
Head of Psychology at the University of Derby, Dr Miles Richardson, highlighted to BBC Earth that  approximately 300,000 nature-friendly acts were committed during the "30 Days Wild" study, all of which were done out of fun and not duty. Couples on the study found they prioritised better, with less focus on petty issues and more  focus on the important ones, while children with ADHD felt calmer.
"We hope that [these] results show how nature isn't just a nice thing to have," McRobert says, "Although it has a huge value in itself – it's fundamentally important for our health, wellbeing and happiness, and that ought to be reflected in our education system, in the way we treat the physically or mentally ill, in the way we build infrastructure and houses, and in how we access and protect green spaces in cities.
Ultimately, we went to see everyone taking action to restore nature – for nature's sake and for ours."
Further Reading:
Connecting With Nature Offers A New Approach To Mental Health Care
Ecotherapy: How Does The Great Outdoors Improve Mental Health?
Green Peace: How Nature Actually Benefits Your Mental Health
How Walking In Nature Changes The Brain
Immerse Yourself In A Forest For Better Health
New Research Shows Benefits of Ecotherapy For Mental Health and Wellbeing
Ten Reasons Why We Need More Contact With Nature
What Are Nature's Benefits and How Do We Value Them?